Remember back in the mid 90s when everything vegan tasted like sawdust and was made out of sunflowers or pixie farts? I feel like gluten-free products are just exiting that phase. I can safely say that because I ate some of the most amazing gluten free cookies from High Hopes Vegan Bakery the other day. Cynthia from High Hopes Vegan Bakery and I had gone back and forth a little bit on the social networks (yes, you should follow me on twitter, facebook and instagram) — I think we actually have a lot of mutual friends. She asked if I would be interested in reviewing her product. I said, "OF COURSE!" and she sent me off a package for review. When it arrived, I was in vegan heaven.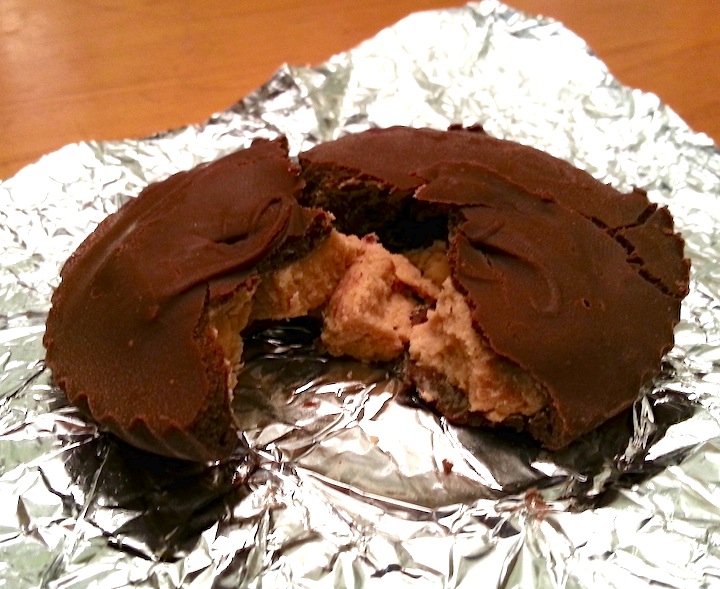 The package contained 3 different items: a gluten-free peanut butter cup, a spiced carrot cupcake and a package of gluten-free oatmeal raisin cookies. Oh, and of course, EVERYTHING was vegan (I love when I can say that about sweets). The peanut butter cup was awesome. The chocolate tasted very high end, and the peanut butter was excellent. The cupcake was also delicious. The flavor was intense and the spice put it over the top. Of course, it was packaged with the frosting separate. That's smart! Instead of getting mashed and gooed in shipping, it was separate. I got to apply as little or as much frosting as I wanted (oh, who am I kidding? You all know I used the entire frosting package — I should probably work on my frosting skills …). Smart move. It all tasted fresh when I put it together.
And of course, the cookies were awesome. The package arrived at a real fortuitous time, too. I snagged it off our doorstep as we were heading to my sister-in-laws wedding. Her husband, who is a super great guy, comes from a traditional Italian family. The wedding cake was enormous, and I'm told quite delicious. But of course, it wasn't even close to vegan. Thankfully, I had these cookies. They were awesome. Instead of saw-dust, they tasted like genuinely delicious cookies. Exactly what you'd imagine an oatmeal raisin cookie with a snap should taste like. We happened to be sitting at a table with a gluten-free bridesmaid. She was definitely thankful for a cookie sweet. She gave it two thumbs up and took one of the bakery's cards! How about that?!
We enjoyed every part of the box. If you want to place your own order, and you really, really should, hit up the Etsy shop. And if you live in Long Island, you can always local pick up. I've already got my eyes on those cinnamon buns. Hmm, cinnamon buns … drool.