Jen's Zen Organic Chocolate Sauce has a lot going for it. It's (mostly) organic. It's dairy free. It's gluten free. It's vegan. Those are all positive wins in my book. And it's chocolate syrup. Can you go wrong with chocolate syrup? No, no you can't.
I tried the classic chocolate, and it's one sweet sauce. It's not exactly a traditional chocolate sauce, which is probably due to the mix of coconut milk and tapioca. It's smooth, but I've found it leaves a flavor in my mouth minutes after eating. It's not a bad thing, just not something I want coating my tongue. I would personally prefer a darker chocolate flavor. This is more akin to a "milk chocolate" flavor.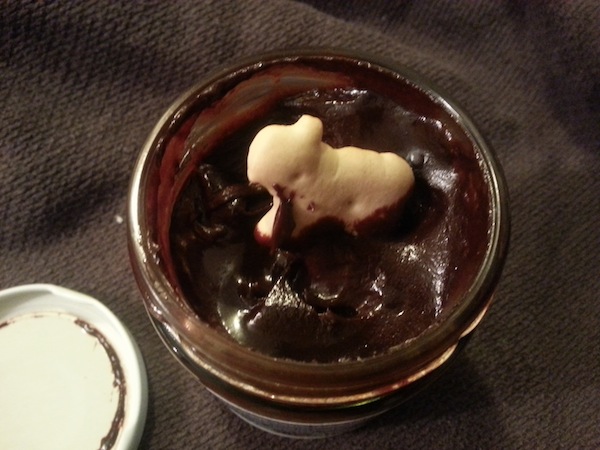 This syrup has a few states from solid to liquid. When refrigerated, it has a thick mousse like consistency. I won't lie — I enjoyed a few spoonfuls straight from the fridge. It takes a while for it to warm up. I left some on the counter and happily dipped some animal crackers in it. Not going to lie, that was an excellent mix. And finally, I tried heating it up. It melts super fast and works really well with cold ice cream.
Ingredients: Organic coconut milk (organic coconut extract, water, organic guar gum), organic raw sugar crystals, organic tapioca syrup, organic chocolate liquor, organic refined coconut oil, organic cocoa powder, arrowroot, vanilla (non-GMO corn maltodextrin, pure vanilla extract), organic sea salt, guar gum.
Overall, I was happy with this sauce. It hit both my sweet tooth and my ethical vegan gut. Organic plus tasty. That's a winning combo. 7/10
For more information, check out Jen's Zen and to find out where to purchase, check out the Jen's Zen Where To Purchase page.