A while back, I was contacted about doing a fruit gummy review. Now, you should know, I have very high standards when it comes to fruit gummies. I obviously don't eat anything with gelatin, and I won't settle for second best. My criteria for gummies comes in a few categories: taste, mouth feel and fun. Fun is sort of a wild category. When a company called Yummy Earth came knocking, I was intrigued. I was initial skeptical (not sure if you recall my carob aversion …), but (spoiler alert) I was pleasantly surprised by what I received.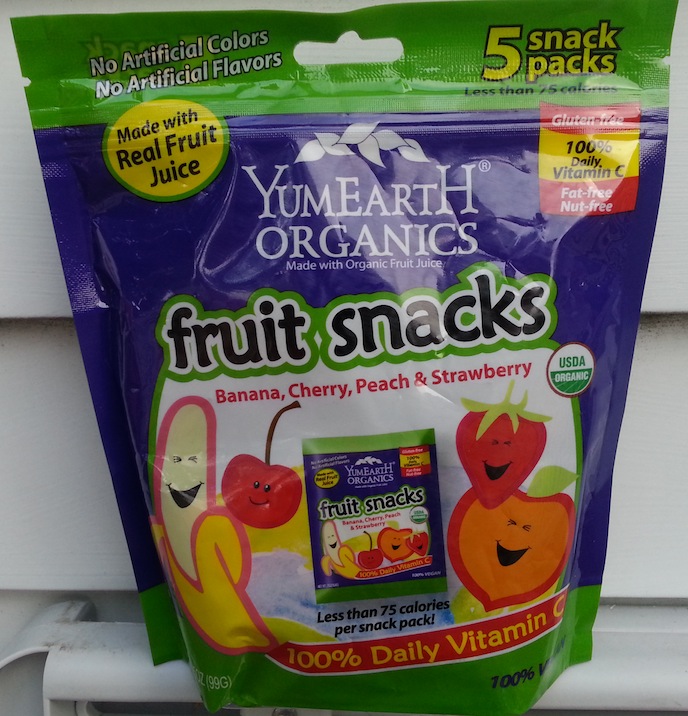 I received the YumEarth Organics Fruit Snacks. This was a larger pack with 5 individual packs inside. The colors caught my eye straight off. Fun, here we come. The packs themselves are rather small. Each packet contained 6-8 gummy chews. That didn't seem like much to me. But I'm not used to 75 cal snack packs. These are more suited to a kids lunch box, or a fun little snack. I'd feel great about putting these in a lunch box too. Instead of HFCS and fake junk, these gummies are organic, gluten-free, nut-free, vegan, contain 100% of the recommended amount of vitamin C and are made from ACTUAL fruit juices. Phew, that's a mouth full. A mouth full of tasty! The individual flavors are Strawberry, Cherry, Peach and Banana. Those are also ordered by my favorite flavors. The banana was a little … odd. It wasn't bad, but it wasn't my favorite. The rest were excellent.
I spotted these in my local pharmacy the other day. Glad to see the brand is hitting the main stream. I'll definitely be picking up a few of these for my boy when he's older. He'll be psyched. You can pick these up from Amazon too. The Yummy Earth 50 Bulk Snack Packs
looks like a great deal. Bulk!