Answer: Yes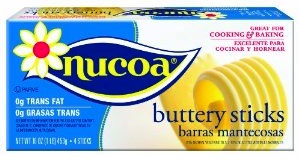 Nucoa is a butter substitute product that has been on the market for many, many years. It was and still is vegan. Recent reformulations have even made it healthier. Great!
Ingredients: Liquid Soybean Oil, Partially Hydrogenated Soybean Oil, Water, Salt, Emulsifiers (Vegetable Monoglycerides, Soy Lecithin), Artificial Flavors, Calcium Disodium Edta and Citric Acid, Vitamin A Palmitate, Colored With Beta-carotene (Provitamin A).
Sources: vrg.org, amazon.com.