Yes!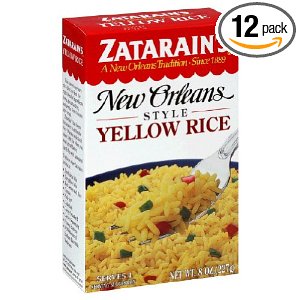 Zatarain's Yellow Rice is vegan. I know this sounds odd since one of the ingredients is "chicken flavor." According to a representative of McCormick (the producer of Zatarain's Yellow Rice), the chicken flavor "is a vegetarian chicken flavor with no meat or poultry." The representative also said, "there are no animal products in this formula." Not bad.
Before purchasing, please double check the ingredient list. I have found old/conflicting ingredient lists.
New Listing with "chicken flavor" – vegan
Old Listing (2007) with chicken fat – not vegan
If you are eating 4 year old boxes of rice products, please be aware.
PS. for those of you who want to spam us with "that's the most unhealthy rice dish ever" comments, we wholeheartedly agree.