Yes, chocolate can be vegan. We already know that Unsweetened Chocolate is vegan. And so is Cocoa Butter, the building block for chocolate as we know it.
Chocolate comes in a dizzying array of types and quality. Dark chocolate is very often vegan as the raw materials (cocoa butter and chocolate liquor) are not typically mixed with milk products. This is of course not true in all cases, and certainly not if the packaging says 'milk chocolate' or 'white chocolate' both of which will contain milk most of the time.
You're going to have to read your labels when it comes to this treat, watching for things like milk, butter fat and whey, but know that there are certainly products out there suitable for vegans.
To read A LOT about chocolate production and its history:
Wikipedia Entry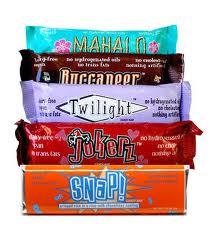 Some favorite @isitvegan chocolate products:
Ghirardelli Mini Semi-Sweet Chocolate Baking Chips (watch the labels on the Ghirardelli products, but many of their baking products are vegan.)
Valrhona is the best Dark Chocolate I have found for making this absolutely decadent chocolate sorbet.
Love these Endangered Species Mint Bites.
Gluten, Dairy and Soy Free, Taza Chocolate makes all manner of interesting flavor combinations and uses a traditional stone ground technique. This is a local favorite for the @isitvegan household…Salted Almond = YUM!
And if you are craving some old school candy bars, check out Go Max Go for their vegan takes on the classics.