Over the years, every vegan has struggled to find some vegan-friendly sneakers. Most dip into Vans, whether it be slip-ons, eras or authentics. All cotton or canvas, of course. Some dig deeper for the Saucony love, but that usually seems to be the end of the line. Some people dabble in Nike footwear. Each year, Nike releases a list to individuals who email them asking "is it vegan?" Usually, the Nike team is quick with the response. I fired off a question and within 24 hours, I had received this response:
I'm glad to hear you're interested in some vegan friendly Nike's. I'm more than happy to assist!

After some extensive research, I've found that the list of vegan friendly footwear is enormous. The list of footwear with animal product is small and will be generally called out in the Highlights tab on NikeStore.com. If you have a specific model that you're unsure about, I'll be more than happy to provide details as necessary.

If you have any further questions or concerns, please feel free to let me know!

Best regards,

Mark
Nike.com
Not exactly a full listing, but it does mention the highlights tab. When browsing Air Max 87s, I came across this listing. And in the highlights tab, it clearly says, "Synthetic and mesh upper for durability." I like that.
For those of you in Europe or Canada, most Nike sneakers (and potentially ALL sneakers) contain a white sticker with what appears to be 3 hieroglyphic symbols. These break down the 3 main parts of the sneakers. Upper, interior and sole. And from my research, I've only seen 2 or 3 different symbols. Apologies for being unable to find an image of this, so bear with me a little. The graphic for leather appears to be a squished rectangle which represents a tanning hide. Another symbol is a cross-hatch pattern. This is for man-made materials. I believe there is a third symbol for cotton/canvas, but it escapes me at the moment.
For those of you who prefer to support vegan ONLY sneaker companies, keep scrolling because this next brand is for you.
If you aren't up on Keep, you are behind. Keep is a cruelty-free shoe and sneaker brand. That means EVERY SINGLE SNEAKER and SHOE is 100% vegan. When the shoe says "leather," it's faux. When it says "suede," it's synthetic micro-suede. And when it says "looks great," it looks awesome.
I often receive questions on what sneakers are vegan. Lots of questions. Most people stick with their standard Vans slip-ons, eras and authentics, while some dabble in Saucony. Others track down Nike for their full list of synthetic shoes. Whatever floats your boat. But if you are tired of the "same old sneaker," I think you may want to have gander at Keep. There are plenty of styles to chose from. Whether you are a mid cut, low cut or chukka fan, this brand has something for everyone. Granted, I've got giant feet. Some of these shoes would obviously look like canoes or giant pencil boxes on me (and some don't even come in my size, in fact, my shoe size is the last item in a few of those drop down menus … sniff).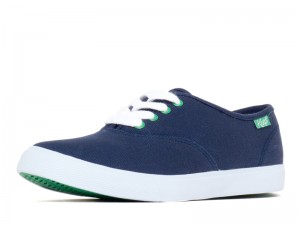 To find Keep in your area or online, check out their store locator.
Another great sneaker company, while not 100% vegan, is TOMS Shoes. You may have seen Toms Shoes on the news or on various blogs. They are doing big things in a big way. For every pair of sneaker you purchase, Toms Shoes one pair to a child in a developing country. That's right. It's a one for one trade. Buy a shoe, give a shoe. Big things, big hearts.
You can get all sorts of GREAT vegan shoes from TOMS Shoes! And while you are buying those shoes, you are also helping those in need. With these shoes, it's a win/win deal.
And if that wasn't enough, for more Vegan Sneaker recommendations, check out the following links:
VeganKicks.com — seriously, one of my favorites.
Moo Shoes — not sneakers, but some darn fine shoes. I have a pair that have lasted me AND still look great for over 6 years.
PlanetShoes.com
— More vegan sneakers than you can shake a stick at…