I am not good in an emergency. I'm just putting that out there. When disaster strikes I am not the person you'll want in charge. Trust me.
Take for instance the time I was sitting at my desk at work, typing away on my computer when the ceiling started to fall in. I heard this huge bang and looked up only to see the whole drop ceiling dip down toward my head, exposing the sprinkler system pipes, the florescent lights, and all the "wireless wires". Scary! I was up, out of my seat and at the back door before you could say "What was that?" I did not stop to help anyone. I did not check to see if anyone was hurt. Heck, I didn't even grab my cell phone. No. I ran out the door convinced the building would be reduced to ruble at any moment. I was not alone at the back door, as my boss and a co-worker had the very same reaction.
Turns out the building wasn't actually falling in. A blade had shot off of the one of the fans on the roof causing lots of imbalance in the HVAC system. The building was fine. We went back to work. Phew.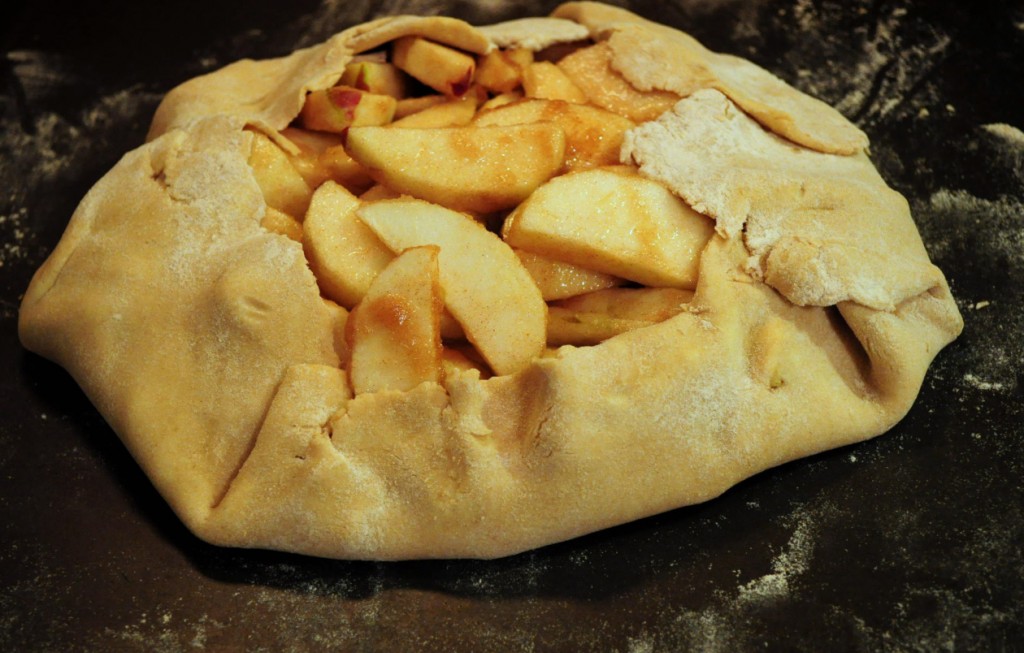 There is one…count them…one…situation where I do not panic. That situation is the run of the mill kitchen fire. Somehow the ignition of the oven, even in the midst of making a Thanksgiving meal for 35 people, does not throw me for a loop.  And produces a sort of boring story about a gas range, a tea kettle and a piece of plastic. I'm all nonchalant…oh a fire…hand me the baking soda, please. (Insert yawn.)
And so I bring you the Flaming Apple Galette. Fortunately the galette never actually caught on fire, and was still relatively delicious. However, I did go through the rest of my baking soda.
Until a few years ago I had never heard of a galette. It wasn't until I started reading Vegetarian Cooking for Everyone that I became intrigued about a dish that lay somewhere between a pie and tart and looked beautifully rustic in a "brown paper packages tied up in string" kind of way. Warm apples covered in cinnamon and sugar wrapped in a flaky crust. Delicious, simple and as tasty for breakfast as it is after dinner.
It's important to believe Mr. Bittman's advice about making sure "your filling isn't too juicy." Mostly because the juice ran out of the crust, down to the bottom of my  oven and started an oven fire which meant I had to turn off the oven before my apples were really done. Oops. True to form, I was calm cool and collective during the latest kitchen blaze. Of course not so calm that I got a picture of my blazing appliance, but I did salvage the galette. And we managed to eat it…crunchy apples and all.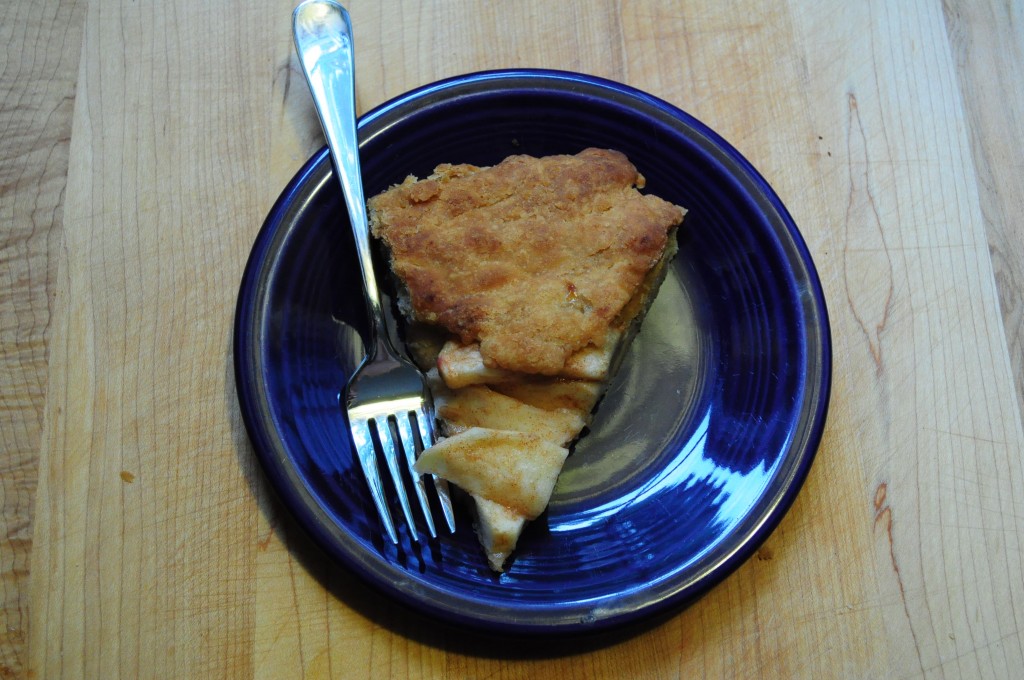 Apple Galette – Adapted from Mark Bittman's How to Cook Everything Vegetarian
Galette is a free-form tart. Apparently you are suppose to use a Tart Crust. I have always used a regular pie crust with good results by making sure not to roll out the dough too thin. I have substituted out butter for Earth Balance Buttery Sticks but you could also use an all vegetable shortening (but that is a debate for a different day.)
Ingredient List:
1 cup plus 2 tablespoons all-purpose flour, plus more for rolling
1/2 teaspoon salt
1 teaspoon sugar
8 tablespoons cold Vegan Margarine (Earth Balance Buttery Sticks), cut into about 8 pieces
3 tablespoons ice water, plus more if necessary
4-6 medium to large apples
2 teaspoons cinnamon
1/2 teaspoon lemon zest
2-3 tablespoons Melted Margarine
1 tablespoon Course Sugar
To Make the Pie Crust:
1. Combine the flour, salt, and sugar in a food processor and pulse once or twice. Add the margarine and process about 10 seconds or until the butter and flour are blended and the mixture looks like cornmeal. Or if you are me you will just pulse it 4 or 5 more times.
2. Put the mixture in a bowl and add the ice water; mix with your hands until you can form the dough into a ball, adding another tablespoon or two of ice water if necessary. Form into a ball, wrap in plastic, and freeze for 10 minutes or refrigerate for at least 30 minutes. (You can refrigerate the dough for up to a couple of days or freeze, tightly wrapped, for up to a couple of weeks.)
While the dough is resting make the filling:
Peel and slice the apples into a large bowl.
Coat with the sugar, cinnamon, and lemon zest.
Roll Out the Dough
Sprinkle a clean countertop with flour, put the dough on it, and sprinkle the top with flour. Use a rolling pin to roll with light pressure from the center out. If the dough is hard, let it rest for a few minutes. If the dough is sticky, add a little flour (if it continues to become sticky, and it's taking you more than a few minutes to roll it out, refrigerate or freeze again). Roll, adding flour and rotating and turning the dough as needed; use ragged edges of dough to repair any tears, adding a drop of water while you press the patch into place.
Time to Bake
Preheat your oven to 425 degrees.
Move the flat dough onto the back of a jellyroll pan or cookie sheet. Spread the apples on leaving 2 inches all around the edge. Then work in a circle and fold the edges over crimping slightly so they stay in place. This will look imperfect and gorgeous.
Brush the whole top with melted margarine and sprinkle with course sugar. Bake for 25 minuets or until the crust is golden brown and the apples are bubbly.  Let the galette rest before serving. Tasty warm or at room temperature for dessert or breakfast — heck, it's got apples. It must be healthier than a doughnut!