Vegan Sausage, Red Cabbage with Apples & Greens w/ Garlic EVOO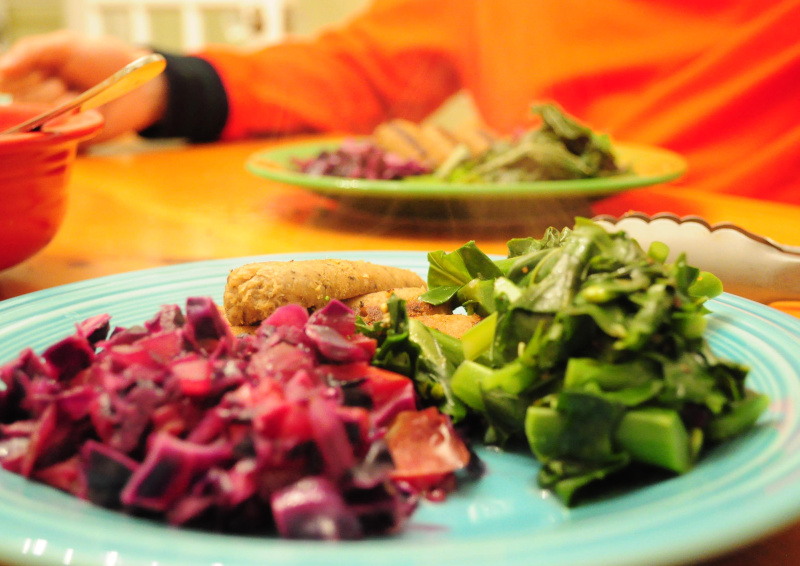 It can be so easy to give up on making dinner by the end of the week. Sometimes it feels easier to head off to the closest burrito joint instead. But hunger was no match for me on Thursday, and I was happy that I didn't cave and go out to eat when I had food in the fridge. This meal was simple to prepare and done in about 20 minutes.
I used this Smoked Apple Field Roast Vegan Sausage as the main protein. These cook up quickly and are incredibly good. I try to limit the faux meats – not that I dislike them – but because they are typically prepackaged, over-processed and include a long list of ingredients I can't pronounce. I do however plunk down the cash for these every so often though.
The greens were simple. I washed and chopped some Broccoli Raab and then let it simmer in a pot of vegetable broth for about 15 minutes. Then I topped with garlic olive oil and Trader Joe's Everyday Spice. (Salt & pepper would work just as well.)
The Cabbage was the star of this meal though. For some reason red cabbage and apples is a perfect combination and creates a vibrant, sweet and slightly tart side dish.
1 TBS Olive Oil
1/4 Cup Red Onion
1 Medium Diced Apple
3 Cups Shredded Red Cabbage
1 tsp vegetable bullion paste
4 TBS hot water water
2 tsp apple cider vinegar
Heat the olive oil on medium high heat. Add the onion and apple and saute until soft. Add the cabbage and coat with the onion/apple mixture. Create a well in the middle of the pan and add the veggie bullion and the water. Cover your pan and let the cabbage steam for 5-7 minutes. Uncover the pan and allow the broth to cook off. Test the cabbage to see if it's done. You may need more or less cooking time depending on the size of your cabbage shreds. When its done,  transfer the mixture to a serving bowl. Sprinkle with the vinegar and salt to taste.
What's your quick go-to home cooked meal?