Lately, I have been all about riding my bike. Seriously, there is no greater feeling than the wind through your helmet (that's right, wear a helmet folks. Make sure to ask me about my "ride-my-bike-to-buy-a-helmet–get-hit-by-a-car" story sometime), and the open road in front of you. Summer is in full swing here. That means early morning or late evening rides due to heat, humidity and sun. I love it. Nothing like it.
I've always been a fan of riding my bike, whether I was terrorizing the neighborhood on my bmx as a kid, or riding to friends houses in the summer. But this summer, things feel like they are changing. For the better. I feel happier riding my bike than I ever have before, and I think I can attribute it to a few factors.
1. RunKeeper

Some months back, a bunch of my co-workers began working at a little startup that makes the RunKeeper app. I was interested in their move, but at the time, RunKeeper did not support the Blackberry. Luckily, I have moved to an Android phone, and downloaded the app post haste. You know what? I love it. I'm a bit of a nerd so anything that tracks miles, routes, estimated calories, … well, that's for me. I love trying new routes to see if I can improve my travel time. In fact, I've already found a long cut (yes, that'd be the opposite of a shortcut) that adds nearly 3 miles to my ride and only increases my travel time by 4 minutes. Think about that. Crazy.
You can keep up with me here. Let's ride!
2. Team Green

I started seeing @goteamgreengo updates in my twitter stream more and more often. It seemed they were always out riding or running or swimming. Not only that, but it's a crew of vegans and vegetarians that enjoy those activities. Just like me. I ended up chatting back and forth with Ted of Team Green, and when I found out he was going to release some jerseys for a great price, I swooped in. Previously I had been wearing this black, dri-fit shirt. You can imagine how awful that was in the summer sun. But now I feel great in my club cut (it's a slightly looser cut. You'll look like you are racing in the Tour De France even if you aren't built like a Tour De Francer…) jersey. Plus, the logos and insignia are great personal motivators. He has one more on ebay now, go snag it now. A new jersey is in the work. I think I'll pick up one of those too. Having more than one would be convenient.
Over the weekend, I wanted to put in a longer rider. Something around 20 miles. I've been meeting Mrs @IsItVegan at the local farm stand for some Sunday morning shopping. It's roughly 8 miles there, and if I take the long way home, I can add on a few more miles. Nothing better on a quiet Sunday morning. I previously asked Mrs @IsItVegan to get some action shots of me on the bike. She surprised me when she snapped this one off over the weekend. I saw her pulled over, but assumed it was someone out for a walk. Ha, little did I know!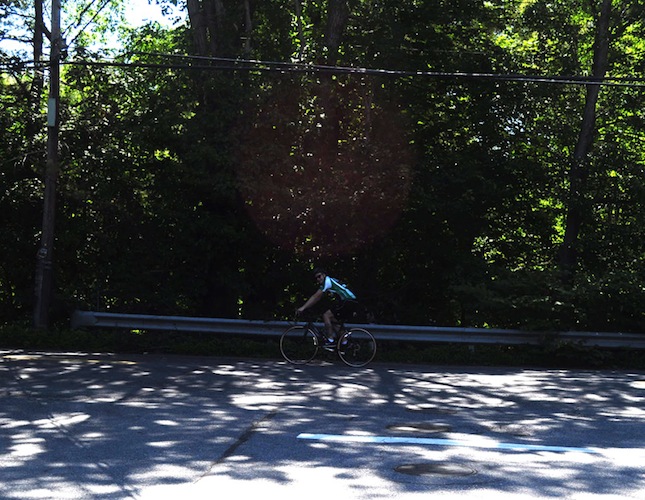 That one came out a bit dark, but luck was on our side. The local Farmers Market had just opened that day, which was a surprise to me. I stopped for a bit to check out the fresh produce, soap and melon sized bagels. She grabbed another shot of me (wearing my new Team Green jersey)Â before I jumped back on the bike and did an 11 mile route home. It was a solid ride and a great day.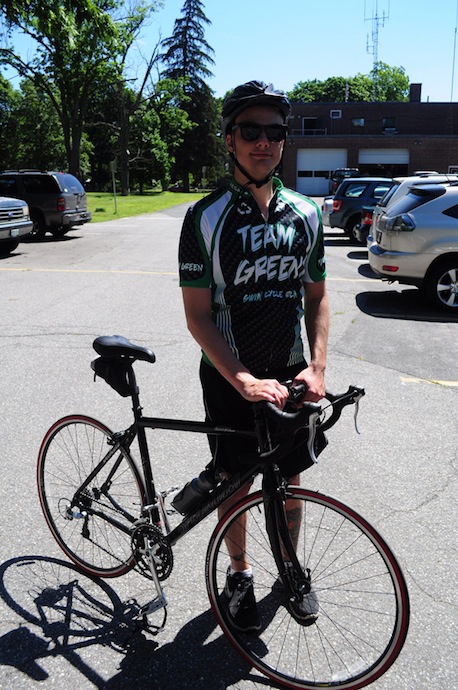 Here's my suggestion. Dust off that old bike and get out there. The road is waiting for you. Good luck!